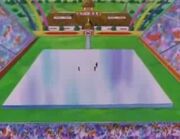 This is world martial arts tournament. Here every 3 months a martial arts tournament will be held. And the final 3 will recieve a zennie prize.
Z 75,000, plus a unique item
Z 50,000
Z 25,000
The Rules
The rules for the tournament are simple.
If you leave the ring, you lose.
You lose when your health is reduced to 1.
You cannot use any items. This excludes Combat Clothing and Android Frames. Note that techniques that summon weapons are allowed on technicality as they are not items. Materializing items, however, is prohibited.
Unique Items are prohibited.
Hitting your opponent in the eyes or groin is prohibited.
Once your match is selected you will be notified via Message Walls. Each competitor has 3 days to begin their match. If they do not, they are disqualified. Users must post their turn within 24 hours of their turn beginning. If you are unable to, Please give permission to another user to take your turn for you.
Two characters per user, max.
Ultimate Techniques are prohibited for the duration of the tournament.
Optional: The loser of a match must do something for the winner. Both characters must agree, and the action must be determined beforehand.
Breaking any of these rules will result in disqualification.
Tournament Sign Up [Closed]
Tournament Slot 1
Tournament Slot 2
Tournament Slot 3
Tournament Slot 4
Tournament Slot 5
Tournament Slot 6
Tournament Slot 7
Tournament Slot 8
Tournament Slot 9
Tournament Slot 10
Tournament Slot 11
Tournament Slot 12
Tournament Slot 13
Tournament Slot 14
Tournament Slot 15
Tournament Slot 16